Cookin' Up Wellness
Regular price
Sale price
$12.99 USD
Unit price
per
Sale
Sold out
This eCookbook was inspired by you, my friends! You have brought so much light into my life through your kindness, love, and support. In "Cookin Up Wellness" you will have access to 50+ of our favorite gluten, dairy and refined sugar-free recipes. These recipes have helped both Jazz and I improve our hormone and gut health. We're all about making easy and tasty recipes with simple ingredients that nourish our bodies. So here's to Cookin Up Wellness.
Share
All sales are final.
View full details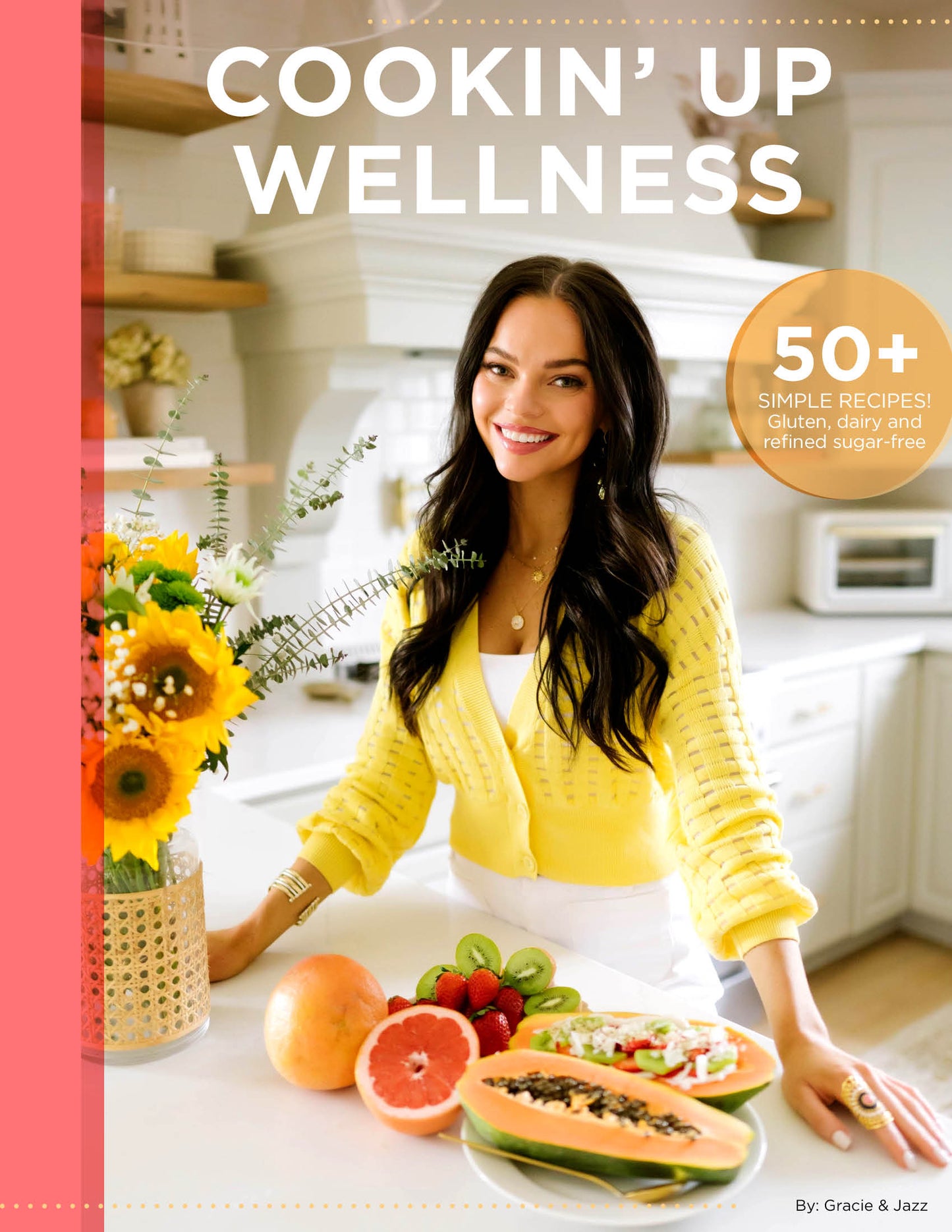 Meet The Authors: Gracie & Jazz
Meet Gracie

I am a digital entrepreneur and content creator who is very passionate about the power of holistic healing. I first started educating myself more about hormone health after being told that the frustrating symptoms I was experiencing were "just part of womanhood." I had lost my period, gained 30 lbs in 3 months, was dealing with hair loss, hormonal acne, mood swings, low energy levels, severe inflammation, constant bloat, and digestive issues.



After college, I was diagnosed with PCOS (Polycystic Ovarian Syndrome) and made the decision to manage my symptoms naturally through nutrition, exercise and lifestyle changes. I wanted to focus on the root cause of my symptoms rather than putting a bandaid on them. Instead of viewing these changes as a burden, I embraced them, and discovered so much joy, health and well-being as I began to heal. It has become my purpose to empower and support the PCOS community. 



I didn't have any experience in making healthy meals until my diagnosis, so I began experimenting with different recipes in my free time. I discovered that eating gluten, dairy, and refined sugar- free meals helped improve my hormone health. It soon became my passion to share these recipes and various lifestyle changes, as they have played such a key role in managing my symptoms and regulating my cycle. 



When I opened up about my health on social media, I truly found my people! I realized there were so many women battling the same symptoms as myself. I am so grateful this community is one that empowers and supports others to overcome similar challenges. My goal is to keep sharing the knowledge I've gained on my personal journey to nourish my body and balance my hormones. I want to encourage you to be your own advocate, and remind you to focus on how health feels, rather than how it looks. Keep in mind, that I am not a medical professional and that every individual is different. You should always consult with your physician before following a new eating plan. Enjoy Cookin' Up Wellness! 

Meet Jazz

I am a certified nutritional therapist practitioner and digital content creator. I previously worked as a private chef to NBA athletes in Indianapolis, Indiana, where I met Gracie. I've spent the last 6 years working as a private chef, teaching in person and virtual cooking classes and working with clients 1:1. I specialize in easy, 30-minute meals with under 10 ingredients. I am totally air fryer obsessed!


In 2021, I finally decided to go off of hormonal birth control after being on it for 10 years. I was nervous; the last time I tried to do it, my period disappeared for 6 months and doctors told me it was going to be difficult to conceive in the future. This time around, I used the concepts of cycle syncing to eat foods and exercise in ways that best compliment the four phases of the menstrual cycle. I also used holistic approaches to reduce my stress and inflammation. Making these simple changes helped me get my period the first month after stopping birth control!


Now, a year-and-a-half later, I'm expecting my first baby! Remember, YOU are in control. It's my passion to empower other women to feel in tune with their bodies, too. 
"I love your recipes! They've inspired me to try so many new food combos that I now love!"

"Thank you for your willingness to be so open about your experience with PCOS. The recipes and lifestyle changes you share have helped me tremendously."

"Your recipes have made such a big difference in my life. You have helped me so much in my healing journey and I can't thank you enough for all that you share."